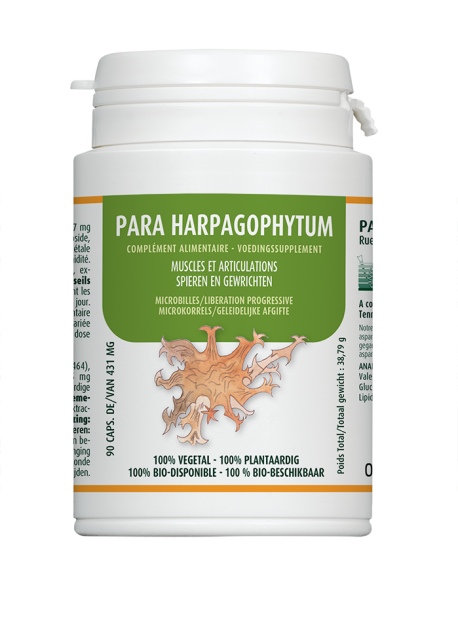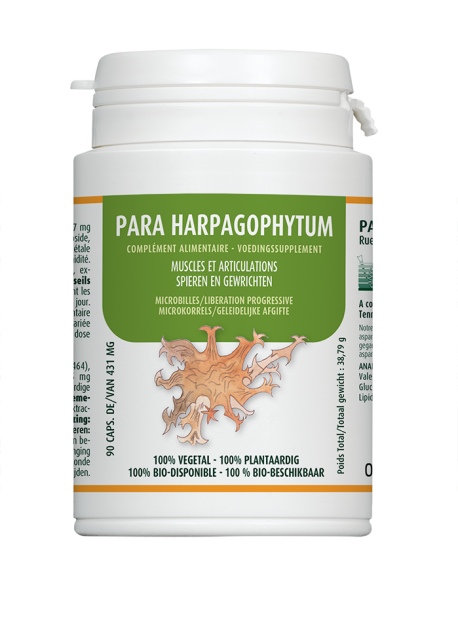  
Para Harpagophytum 90 capsules
Helps relieve stiff and/or painful joints and tendonitis.
Belgium: NUT code: NUT PL 430/10 – Pharmacy code: CNK 2064-269
Volume discounts
| Quantity | Unit discount | You Save |
| --- | --- | --- |
| 2 | 10% | Up to €4.60 |
| 3 | 20% | Up to €13.81 |
The roots of this plant increase joint flexibility and decrease discomfort associated with joint stiffness. It is an excellent nutritional supplement for elderly people and people practicing sports.
When is it recommended?
When you start to feel your joints stiffen and become painful.
After exercise if you feel joint pain.
For sportsmen and women as a preventive measure during a sporting activity, to relieve the joints.
Para Harpagophytum is a food supplement, not a drug. A dietary supplement cannot be used as a substitute for a varied and balanced diet and a healthy lifestyle.
Do not hesitate to seek advice from a health professional.
Presentation
Pillbox of 90 capsules.
Weight per cap: 431 mg.
Total weight: 38.79 g.
Ingredients
Per capsule: 246 mg microcrystalline cellulose (E464), 167 mg Harpagophytum (Harpagophytum procumbens) including 5 mg harpagoside, measured by HPLC, 9 mg shellac (E904). Vegetable capsules (E464).
Our products are guaranteed gluten and lactose free, they have no added sugar or salt, no aspartame, no soy, no animal products and no preservatives.
Store in a cool and dry place and away from light.
Production method
The plant is extracted with water and alcohol in order to extract a maximum of active ingredients. The hydroalcoholic extracts are then gently evaporated to avoid damaging the active ingredients and to remove all traces of water and alcohol. This allows a higher concentration of high-quality active ingredients. The extract is then placed on slow-release microbeads, which doubles their activity time.
This unique method allows, on the one hand, to absorb 100% of the active ingredients, and on the other hand, that the extracts remain longer in your body.
For more information, we invite you to visit our section "About Parabolic Biologicals - Our production method".
Nutritional value
Per capsule
Energy 6.922 kJ/ 1.629 kcal
Carbohydrates 0.396 g
Proteins 0.006 g
Lipids < LQ
Toxicology
To date, no toxicity or mutagenicity has been demonstrated at the recommended doses.
Recommended daily intake
Humans:
For maintenance: 1 to 2 capsules per day, one in the morning and one in the evening 30 minutes before meals.
For a cure (2 to 3 months for an optimal effect): 3 capsules a day, one in the morning, one at midday and one in the evening 30 minutes before meals.
Animals:
Per body weight of 10 kg - per day 1/2 capsule morning and evening.
Do not exceed the recommended dosage.
Keep out of reach from children.
Contraindications
Do not use in case of gastrointestinal ulcer or gallstone.

In the absence of sufficient data, use in children, pregnant and lactating women is not recommended.
Interactions
As a precautionary measure we should avoid giving Harpagophytum together with products for high blood pressure or blood thinners.
Side effects
Harpagophytum can induce mild and temporary gastrointestinal discomfort in some people but it is very rare.
Related products
In case of stiff joints and sore muscles.
Pharmacy code: CNK 2311-090.
Helps maintain the natural flexibility of your joints. Relieves stiff and painful joints.
NUT Code Belgium: PL430/26 - Pharmacy code: CNK 2168-441