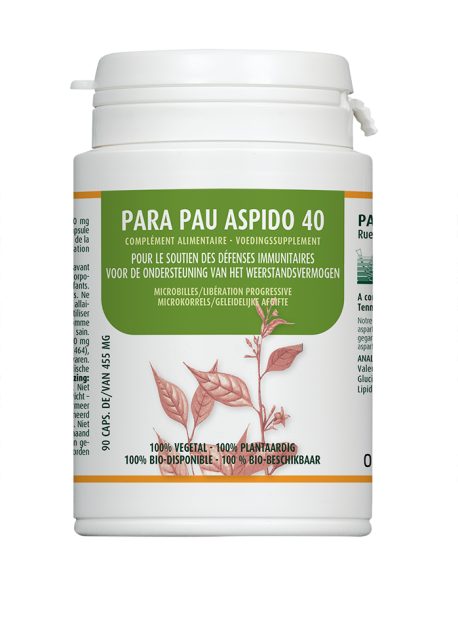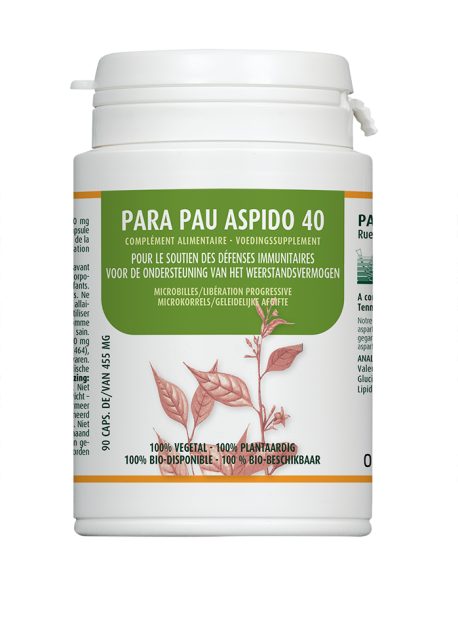  
Para Pau Aspido 40 90 capsules
Useful for boosting the immune system in case of serious pathologies. Useful in case of viral, bacterial, nosocomial and opportunistic diseases.
NUT Code Belgium: PL430/30 - Pharmacy code: CNK 2627-131
Volume discounts
| Quantity | Unit discount | You Save |
| --- | --- | --- |
| 2 | 10% | Up to €13.40 |
| 3 | 20% | Up to €40.19 |
The bark of the Pau Aspido contains some very rare alkaloids (such as uleine) that we use to boost our immune system. The effect is powerful and fast. In addition, it provides a supplement in nitric oxide which is interesting for increasing muscle mass in athletes and people in convalescence.
Parabolic Biologicals is the only company that has obtained an exemption from the Belgian, German and French government to sell this product. It is therefore sold legally. (This product used to be called Para Pau pereira).
When is it recommended?
When our immune system is weakened either due to a natural weakness, or by viral of bacterial attacks, or by heavy treatments that lower our immune system.
When we are subject to chronic pathologies, to support our natural defenses.
When you want to help increase your muscle mass either for sport or when you are recovering and have lost too much muscle mass.
Para Pau Aspido 40 caps is a food supplement, not a drug. A dietary supplement cannot be used as a substitute for a varied and balanced diet and a healthy lifestyle.
Do not hesitate to seek advice from a health professional.
Presentation
Pillbox of 90 capsules.
Weight per cap: 455 mg.
Total weight: 40.95 g.
Ingredients
Per capsule: 162 mg microcrystalline cellulose (E464), 275 mg of Pau Aspido (Aspidosperma subincanum) extract including 40 mg of total alkaloids (mainly ulein) measured by HPLC, 9 mg shellac (E904). Vegetable capsules (E464).
Our products are guaranteed gluten and lactose free, they have no added sugar or salt, no aspartame, no soy, no animal products and no preservatives.
Store in a cool and dry place and away from light.
Production method
These caps have undergone a special treatment. The plant has previously undergone a decoction to release the active ingredients (so no use of alcohol is involved as it destroys the active ingredients of the plant). The extracts are then evaporated to remove all traces of water. This allows a higher concentration of high-quality active ingredients. The extract is then placed on slow-release microbeads, which doubles their activity time.
This unique method allows, on the one hand, to absorb 100% of the active ingredients, and on the other hand, that the extracts remain longer in your body.
For more information, we invite you to visit our section "About Parabolic Biologicals - Our production method".
Nutritional value
Per capsule
Energy 7.457 kJ/ 1.756 kcal
Carbohydrates 0.434 g
Proteins 0.005 g
Lipids < 0.0025 g
Toxicology
To date, no toxicity or mutagenicity has been demonstrated at the recommended doses.
Recommended daily intake
Humans:
For maintenance: 1 to 2 capsules per day, one in the morning and one in the evening 30 minutes before meals.
For a cure:
In Belgium: 2 capsules per day, one in the morning and one in the evening 30 minutes before meals.
In most other countries of the European union: 3 capsules a day, one in the morning, one at midday and one in the evening 30 minutes before meals.
Animals:
Per body weight of 10 kg - per day 1/2 capsule morning and evening.
Do not exceed the recommended dosage.
Keep out of reach from children.
Contraindications
In most European Countries there is no contraindications whatsoever, in Belgium however some restrictions have been mad.
Belgium: Inform your physician in case of simultaneous intake of drugs. Cannot be used by children, pregnant and breast-feeding women. Do not use in case of autoimmune disease. Do not use more than one month.
Other European countries: None to this date.
Interactions
None know to this day.